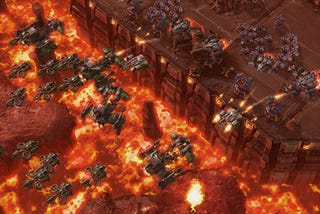 Blizzard offered a day-long hands-on demo of StarCraft II: Wings of Liberty, the first chapter in the StarCraft II trilogy. We played about a third of the game and we'd like to tell you about it—minus the spoilers.
While there wasn't much in the way of massive story revelations in what we played—we were just getting access to some of the Terran vehicles by the end of our demo—there are some key characters that spoiler-phobic StarCraft fans may want to experience only for themselves. That's what this post is for.
Feeling brave? Then read our full, potentially spoiler-laden in-depth write-up of StarCraft II: Wings of Liberty, just watch out for details on who said what, who's killing who, and details on some of Jim Raynor's new pals. If you'd like to keep it plot-point free, read on for our abridged impressions and a blow-by-blow account of our time at Blizzard.