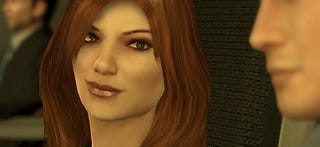 A brief look at Alpha Protocol yesterday brought to mind how what may be the western-made role-playing-game time-sink of this fall compares to some recent big ones. A quartet of love scenes is but one difference.
Alpha Protocol, the spy-themed role-playing game from development studio Obsidian Entertainment and publisher Sega, once expected many months ago, is finally close to release. It's set for fall, that same season that brought Mass Effect and Fallout 3 to gamers in the last two years.
In theory, Alpha Protocol should seem quite different. It is neither set after an apocalypse nor in space. But a demo of the game I witnessed yesterday showed the kind of shooter-centric gameplay and deep, interactive dialogue exchanges that might make a gamer see much Mass Effect in it, despite its trappings in a world of spies, e-mailed assignments and James Bond-style villains.