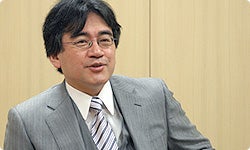 In the company's quarterly financial results briefing, Nintendo boss Satoru Iwata confessed that, yeah, internally no one believes that Nintendo's E3 2009 briefing was anything to shout about, either.
Says Iwata:
As for the media briefing at E3, of course we had many internal discussions after that. Honestly speaking, none of us at Nintendo thought that our presentation at E3 was as good as it could have been. It is apparent that we could not fully convey the charm of our products.
Iwata singles out the new Super Mario Bros. Wii demonstration as especially less-than-whelming.
This year, however, with the New Super Mario Bros. Wii, four people lined up with Wii Remotes was not a scene that no one had ever seen. Those who actually had the chance to play understood how the game would change with four people playing simultaneously, but we could not address that fun sentiment at the media briefing.
Iwata goes on to say that, in the future, Nintendo's press briefing strategy may be fine-tuned to deliver impact to those watching online - in other words, you, the interested consumer, and not the media per se. Wonder if they noticed this?