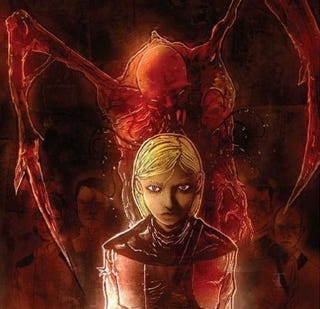 The San Diego Comic-Con draws more than a hundred thousand people from around the world each year to revel in all things pop-culture. But last weekend's gathering also highlighted the strengthening connection between comic books and video games.
Half a dozen comics and two new cartoons based on video games were announced at the show and plenty of comic books were unveiled as video games. The convention itself was host to more than 40 panels about video games.
Often these crossovers serve as a sort of table setter for an upcoming game, helping to set the stage, build up the characters and explore the world of a video game before it gets into the hands of gamers.
Before the original Sci-Fi role-playing game Mass Effect hit two years ago, Del Rey published the novel Mass Effect: Revelation. The prequel, penned by the game developer's head writer, took place 35 years before the game.
This time around, the next Mass Effect game will be heralded by a comic book, not a novel. Mass Effect: Redemption is being written by Mac Walters, the person responsible for Mass Effect 2 script, and Walters promises it will change the way gamers look at the upcoming Xbox 360 sequel.