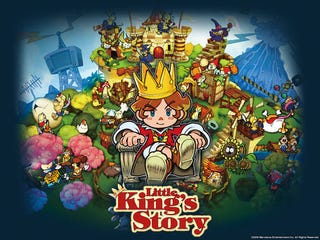 There comes a time in the week to reflect on what got into my reporter's notebook but didn't turn into Kotaku blog posts. Shall we?
This was a tricky week, as two of our finest, McWhertor and Fahey, were off to Comic-Con and working odd hours because of it. So I wrote more posts and therefore did a little less reporting and left less on the cutting room floor. But still, here are some scraps...

A Rare Studio Visit: You might think that an experienced video game reporter like myself would have visited a lot of game development studios. Unfortunately, I haven't. Blame my being based in the studio-light New York or not barging into enough development company offices or whatever. When I stepped into the Gameloft studio in New York on Tuesday, where I witnessed games actually being developed, well, that was unusual. (I was there to play Gangstar: West Coast Hustle, a GTA-like iPhone game.) I've covered games full-time for a little over four years and my visit to an active game development part of Gameloft adds to a short list that includes a visit at Retro in Austin, Midway's recently-shuttered Austin studio, the recently-shuttered Gamelab in New York, Yukes in Yokohama, EA in Redwood Shores and Double Fine in San Francisco. That's it, though I think having Kenta Cho show me stuff on his laptop counts too. I've been in meeting-room areas at Rockstar (NYC), Nintendo of America (Redwood Shores), Tecmo (Tokyo), Sony (Tokyo), Sega (San Francisco), Konami (San Francisco), EA (Los Angeles) and probably a few others. But if we're talking strictly visits to places where people are at computers developing stuff, it's just that short list.