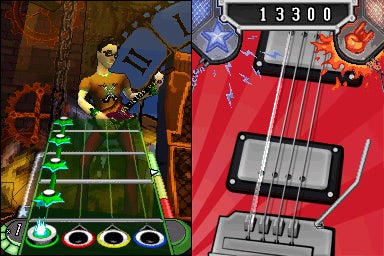 They know some gamers will groan. But they're confident: you just need to try it. "It" is not Guitar Hero 5 DS, which you might have expected this fall. There's no such thing. Enter Band Hero DS.
This November, Activision's Vicarious Visions studio will release its fourth music game for the Nintendo DS. Band Hero DS follows a trio of shrunken Guitar Hero games that were playable on Nintendo's handheld with a bundled guitar grip that plugged into the Nintendo DS' Game Boy Advance slot. The add-on simulated the feel of a guitar fret.
The portable Guitar Heroes were hits with kids but have suffered mockery by many reader of sites like this one, who have surmised that the games on the DS are only good for hand cramps and embarrassment.
"No matter what your game is, you're always going to have a subset of people who won't want to play it for philosophical reasons," David Nathanielsz, the game's executive producer at Vicarious Visions told Kotaku in a phone interview earlier this week. "That's unfortunate for us because there is a large group of people who see pictures of Guitar Hero DS or Band Hero DS and say, 'That looks dumb' or whatever. 'I never want to play it.'"
But play it and you just might be converted "I don't think we'll get everyone," he said. "But if we can get the message out there for people to try it…"
What if people could get over their apprehensions? What would they find?
Vicarious Visions' new game, Band Hero DS lets four people use their systems to play in a virtual band together. Its drum and guitar peripherals work only with the middle version of the DS, the DS Lite. Players can attach the guitar grip to play lead guitar or bass, wrap a sleeve of rubberized silicone around the system — the "drum grip" — and tap on mini drum pads to play drums or sing into the DS mic for vocals. And gamers can configure their band with any combination of those instruments, allowing for an all-vocals band or one with two drummers.