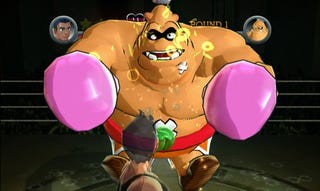 Few Wii games have been designed to please long-time Nintendo fans as much as the recent Wii Punch-Out!! Developers on the game recently explained to Kotaku just how the game came together, who did what, and what got left out.
Punch-Out on the Wii was a collaboration between Nintendo's Japan home office and Canadian studio Next Level Games. Developers in both locations recently fielded Kotaku's questions over e-mail. Their answers gave rare insight into how these kinds of collaborations work.
And, as a bonus, the developers explained why players didn't get to punch Princess Peach or Super Mario in the mouth with Little Mac's gloved fist.
As much as Nintendo wanted Punch-Out, like its other games, to reach new gamers, this was a title the company also wanted to reach the old-school Nintendo fan. "We firmly believed we could not betray our traditional fans' expectations," the game's Nintendo producers Kensue Tanabe told Kotaku over e-mail. " We consulted with Next Level Games and decided to follow the overall design of the NES title in every aspect of the new one. Characters were designed to look almost the same, and we also asked NLG to design them to be beaten with the same tactics of the NES version. This is also when we first decided to adopt the "classic" control scheme of holding the Wii Remote sideways." (Read Kotaku's Punch-Out!! review.)