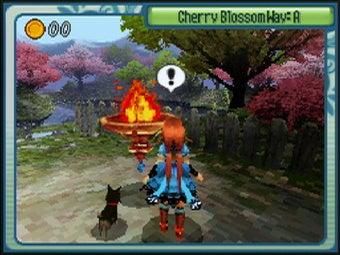 Thank goodness the new Wizard of Oz game for the DS doesn't closely follow the movie's plot, because this reporter, who played the game recently, could never get through that movie.
What Is It?
The Wizard of Oz is a newly announced (today!) game for the DS coming this fall from publisher XSeed. It's a turn-based 3D role-playing game that was released in Japan by developer Media Vision and publisher D3 as the anagrammatically challenged RIZ-ZOAWD. It is based loosely on L. Frank Baum's book that was turned into a classic movie. Players explore a 3D overworld and participate in turn-based battles in a separate battle screen, as you'd expect a conventional DS Japanese RPG to work. No party attacks or summons in this one. All stylus control.
What We Saw
Before playing XSeed's Half-Minute Hero and under secret embargo a couple of weeks ago, I took control of Dorothy at the start of the game, made sure she wasn't in Kansas anymore, followed the Yellow Brick Road (how am I doing with the film references), learned to pet Toto and fight enemies made of jelly before finally finding the Airy Scarecrow and adding him to my party.