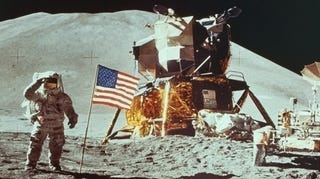 Tomorrow is the 40th anniversary of the date humans first landed on the Moon. Earth's satellite has been a setting for games, or levels in them, going back to Lunar Lander in the 1970s.
The Toronto Star waxes nostalgic about moon games in a writeup that spans some of the major games set on the moon, in whole or in part. Naturally, Williams' Moon Patrol stands as one of the granddaddies; Atari's Lunar Lander of 1979 - an arcade port of a game common to PCs before then - was something of an oddity, a science-fiction game that was non-violent. Well, unless you crashed your lander, of course.
In addition to those two, Military Madness, Command & Conquer: Yuri's Revenge, Duke Nukem 3D, the Legend of Zelda: Majora's Mask and I Wish I Were the Moon are all mentioned for featuring the moon, in whole or in part. I'm certain there are more than just those games. For example, DuckTales' moon level - cited by many as having the greatest level music of the chiptone era.