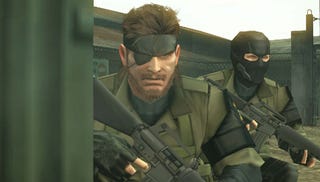 In a press release Q&A issued by Konami today, Metal Gear creator Hideo Kojima stresses the importance of the PSP installment of the Metal Gear Solid series, calling it, "a MGS5-class game."
While the PlayStation Portable is no stranger to side stories and throwaway tie-ins to otherwise major game franchises, that simply isn't the case with Metal Gear Solid: Peacewalker. Kojima is up to his arms in the title, assuring fans that Peace Walker is an important part of the MGS series.
This game is an MGS5-class game. I am supervising, designing, producing, directing, and editing this title together with the MGS4 team. Therefore in that sense, "METAL GEAR SOLID" has not ended, and the "METAL GEAR SAGA" continues.
In fact, Peace Walker is so important that Kojima changed his mind about simply handing the property over to a new group of creators.
I actually had the plan for this project in mind while working on MPO. Back then, I intended to place the project in the hands of the next generation of creators at Kojima Productions. However, in the end, I felt that it was still a little too early to leave it completely in their hands, so I decided to take the reins.
As for the actual game mechanics, Kojima couldn't give away much. He explains that the player will be able to customize their Snake before going on a mission, outfitting him with the equipment that best suits their play style. Charge in with guns blazing, or opt for a more stealthy approach, slimming down your arsenal in favor of quieter movement.
Peace Walker will also include a "growth feature" that allows your character to evolve, a simliar mechanic to that seen in roleplaying games and recent first-person shooters.
And yes, there will be multiple types of cardboard boxes, complimenting the two-man version we witnessed in the E3 trailer.