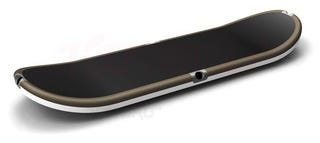 I came. I saw. I fell off the skateboard. Once. Gently.
Not being known to be exceptionally skilled at video games, I play them anyway. But having limited athletic skill and no ability to roller-skate, I've never tried to skateboard more than a foot.
Who better to try out the new Tony Hawk game played with a skateboard peripheral last night at an Activision event in Manhattan?
Eagerly in the evening yesterday, I stood on a prototype Tony Hawk Ride skateboard, one that runs on 2 AA batteries and has had its 300-pound weight limit tested successfully by a guy at E3 who one of the game reps on hand guessed, must have weight 350. Two of me would have barely busted the limit.
I tried the same stuff Crecente tried during his E3 Tony Hawk Ride preview and had a similar reaction. Jumps — ollies — were easy to learn and execute with an abrupt back-foot tilt of the board and then a quick leveling off. That smacks the board's underside back onto the ground, under your weight, so plan to have mercy on the people downstairs by playing this on a carpet. Like Crecente, I had more trouble executing mid-air tricks, which are activated by moves of your feet, bends of your ankles or hand-gestures (grabs, if you want) toward sensors on the board. At its most basic, one can twist that board for tricks. I just wiggled my ankles in what must amount to button-mashing in Ride. Tricks happened. Well, the first time I tried, tricks didn't happen. I lost my balance and had to step off.