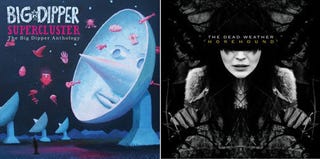 MTV Games has accomplished what we once thought impossible, releasing a single, catch-all notification about downloadable track updates to Rock Band for the PlayStation 3, Xbox 360, PSP and Wii. Brace for massive lists!
Not only do we get the regular Friday update on what's new and forthcoming for the PS3 and Xbox 360 versions of Rock Band, we get the weekly Wii library catch up, and the latest additions to Rock Band Unplugged. Huzzah!
First out of the gate are new Rock Band and Rock Band 2 tracks, a triple shot of track packs from Judas Priest, Big Dipper and The Dead Weather. Sure, Jack White may find it "sad" that the kids are experiencing new music in music games, but apparently has no qualms about selling his band's music to Rock Band owners.