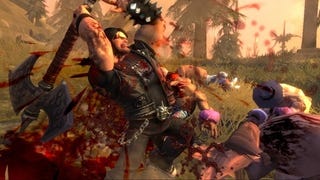 In possibly the most appropriate accidental PR move of the year, the corner of the couch I got up from after playing heavy metal adventure Brutal Legend tore the front of my jeans leg.
I'm not a ripped-jeans kind of guy, but Brutal Legend's publicist had already told me that the game's chief creator, Tim Schafer, tells people you don't have to be a pirate to enjoy Monkey Island. So I don't have to like metal to like Brutal Legend.
OK, then why are you having the couch tear up my jeans leg?
What Is It?
Brutal Legend is a comedy action-adventure from Double FIne Productions, the studio that produced the beloved Psychonauts. The game's coming to Xbox 360 and PS3 this October and... oh, come on. If you're reading Kotaku you know this.
What We Saw
I was able to play the game's linear opening sequence which Crecente and I saw at Double Fine during GDC, got to drive around the game's open world, meet the Ozzy Osbourne-voiced in-game merchant and play a driving-based escort mission.