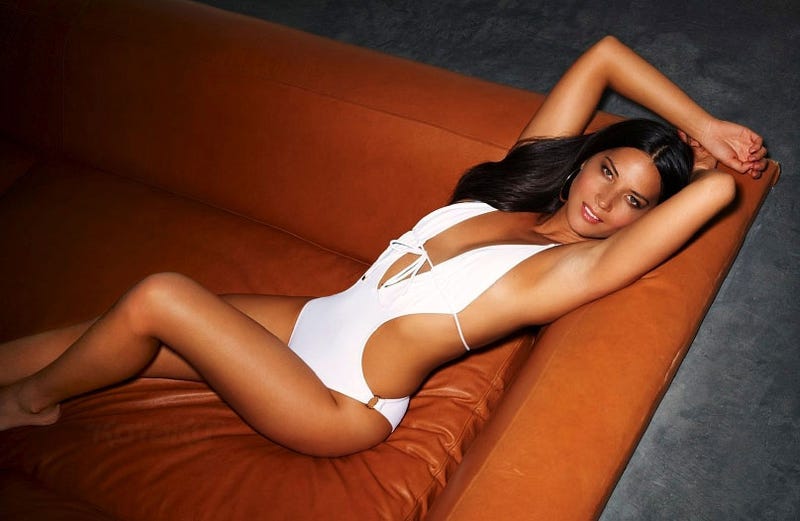 No matter what was discussed, agreed, or signed, when you're in front of a Playboy lens, the nudity negotiation never ends. Olivia Munn learned that after two days with one of their more persistent stylists.
The stylist, whom she impersonated with a swishy, faux-frenchy accent, kept suggesting she try outfits that were plenty evocative of the oops-I-forgot-my-panties style of glamour photography. Then he reached into his costume trunk and pulled out the deal-breaker, a black fishnet number that was a swimsuit in name only. It left zilch to anyone's imagination, least of all what was in his.
She wasn't going there. "My vagina would have looked like a Honeybaked Ham," Munn said, sitting in a makeup chair and talking to Kotaku before Thursday's taping of G4's Attack of the Show, which she co-hosts. Despite the browbeating to Take! It! All! Off!! Munn's decision not to reveal her charms remained as final at the end of her shoot as it was when she rebuffed Playboy's original request.
Munn thinks she knows now why Playboy came back to say, no prob, a clothes-on pictorial was OK. "I'm convinced the photographer and the stylist were in cahoots to get me naked," Munn said. Hey, never let it be said Playboy doesn't have its readers' number one interest foremost in mind.
"They were showing me all these things to put on and saying, 'And you can just see everything! And it's just gorge,' and I'm thinking, 'You guys are out of your mind," Munn said. "It ended with my publicist and the stylist screaming at each other."
Becoming one of the few women ever to do a Playboy cover and pictorial without nudity has certainly bolstered Munn's profile as the hottie with Geek Goddess approachability - the gamers' Athena, if you will, thanks largely to her three years with G4. But it's led to plenty of speculation that her choice of a fully functional wardrobe was only a business decision. That now isn't the right time for her to get naked, but one day that right time will come, and we'll both know it, and when it happens it will be tender and magical.