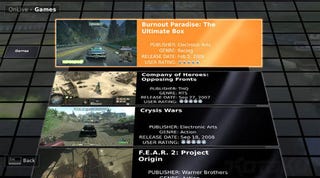 Remember the possible gaming revolution that will or could be OnLive? We recently connected some dots and asked Microsoft if they could be a part of it. We received an answer and a compliment.
Despite what appears to be a converging of technological capabilities, Microsoft has told Kotaku that it's too early to talk about whether the Xbox 360 could be capable of replicating the promised capabilities of the OnLive service.
Those abilities would have freed Xbox gaming from requiring discs, downloads or possibly even an Xbox itself.
To explain why we asked such a question, it helps to remember what OnLive is. Announced in March and proven to work in controlled press demos (one of which I experienced, hands-on), OnLive would alter the way games are bought and owned, if not how players would control them. The crux of the service is a shift that moves the computations that typically occur in PCs or game consoles when a game runs to a server farm located far away from any OnLive gamer. The OnLive gamer would play games as they normally would, using a traditional-style controller. They would see their game play on the screen of their broadband-connected PC or TV, the latter of which would need to be plugged into a "microconsole" that's a little larger than a DS. The secret sauce of OnLive would be the ability for it to send the video signal of the game from that server farm to the player's screen with no delay in sync with any button presses by the gamer. As seen in the press demos, games such as Crysis and Burnout Paradise could run smoothly through OnLive. In theory, any game could. Gamers would be able to buy, rent or even spectate new games with no delay.