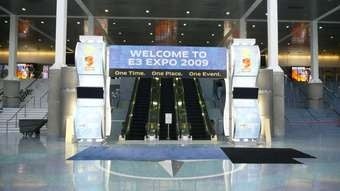 E3 week delivered a deluge of stories, previews, impressions, hands-on, live blogs and well, just coverage, but that doesn't mean the flood stops here.
Let's recap a mammoth news week - more than 250 posts on E3, nearly 100 of them classified grade-A originals - but remember much more is on the way. Probably another week's worth of E3 coverage is in the works, some of it the best stuff the team gathered down in L.A.
Since much of originals deals with E3, rather than linkdump you to death, we'll direct you to this comprehensive roundup . After that you'll see the highlights - the pressers, the live blogs, the big announcements and, of course, the booth babes.
I'll be manning the ship for the next 48 hours. Let's have a big hand for the our on-site team of Stephen, Crecente, Fahey, and McWhertor (edit: and Plunkett, I swear I am not anti-Australasian) all of whom have probably gone into hibernation by the time you read this, but they'll be back for more on Monday.
Kotaku's Complete Coverage of E3 2009
The Big 3 Pressers
Sony's E3 Announcements
Microsoft's E3 Round-Up: Day One
Nintendo's E3 Announcements
E3's Unmentionables: What Microsoft, Nintendo & Sony Forgot To Say