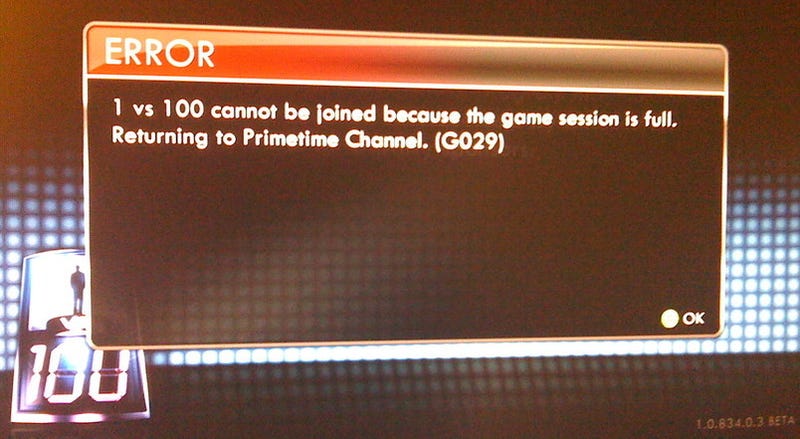 1 vs. 100, the free Xbox Live game show open to, theoretically, everyone, is telling U.S. players "the game session is full" on the first day of the beta.
The U.S.'s first live beta event was scheduled for 10:30 p.m. EDT. At that time, having already downloaded the beta, I got an error screen (GO29) telling me "the game session is full." This is, I mean literally, at the first minute the game was supposed to go live.
Update: Through 1 vs. 100's official Tweet, we're all being advised to get in early, as participation will be on a first-come, first-served basis. No word on any maximum participation size. But 1 vs. 100 live host Chris Cashman, who referred throughout the evening to the 50,000 in attendance, mentioned that the capacity limit will be removed for the Saturday show. Other Microsoft types had been Tweeting about the stress on the system, so perhaps this was a test.
Figuring I perhaps had a corrupted file (possibly from the Canadian beta gate crash?) I redownloaded the beta. I still got the same error message, and further, when trying to activate the game through the download history of my account management tab, got the following: