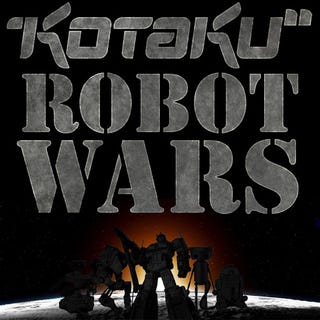 The Kotaku Robot Wars continue on the other side of the world, as Osaka Japan and Canberra Australia are reduced to steaming piles of rubble and broken robot parts...but whose broken robot parts?
Once more we pit the power of human intuition against the mechanical will of Crecente's R2-D2 robot to try and predict the outcome of the Kotaku Robot Wars. At last count the humans and the robot were tied, both correctly predicting the outcome of two battles - Optimus Prime VS. Dog and Kos-Mos VS. Portal Turrets - while fan favorites Mega Man and the Fruit Fucker 2000 fell in combat against HK-47 and Chrono Trigger's Robo.
The results for round 2 are in, and they aren't looking good.