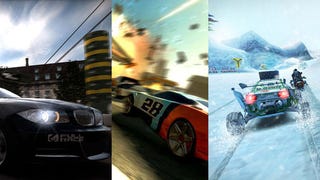 In one week, E3 will reveal just about every major game you will be able to play in the next year. For racing game fans, these are the big ones expected at the big show:
Blur - Activision is hoping for a Call Of Duty-scale new racing franchise, from Bizarre Creations. Realistic cars, low-stress handling, mixed with Mario Kart -style pick-ups on the track. (Expected for all major platforms)
Split/Second - Disney's Hollywood-action racing game, includes huge track-deforming effects that players can trigger, like destroying gas stations or causing buildings to fall and alter the course. (Expected for all major platforms. Preview here.)
Need for Speed x3? - EA's got a Need For Speed: Nitro for the Wii, the more realistic Need For Speed: Shift for higher-end consoles and PC. Plus there's a Need for Speed: World free PC game coming. Maybe we'll see that too?