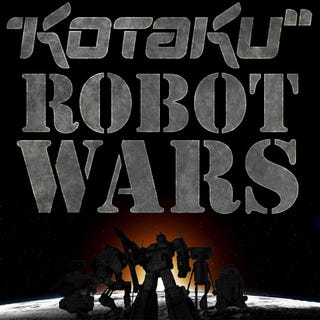 The first round of Kotaku's Robot Wars have left four U.S. cities in ruins and four video game robots nothing more than mounds of melted plastic and metal. Who survived to fight again?
Well that all depends on who you ask. As we mentioned yesterday, we're doing this three ways. The actual outcomes have been determined by random number tumbling, with you, the readers, placing your predictions up against Crecente's automated R2-D2, which is using the randomly running over scraps of paper method of prediction. In the end, we'll not only know who is the top video game robot, but also a heartwarming tale of man's triumph over machine, or vice versa.
Why the official results are randomized: Some of you seem confused by why your votes are being ignored, so lets explain it a little more clearly. The winners have been predetermined by random number crunching. What we are voting on now is who we predict will win. Then we compare that to the predictions made by Crecente's robot, to determine which is better, human intuition or random robot hijinx. It's a war within a war. If we were to go solely on popularity, Monday's poll would have had Optimus winning, and this would all be over now. Moving on!
Let's take a look at the results of round 1!