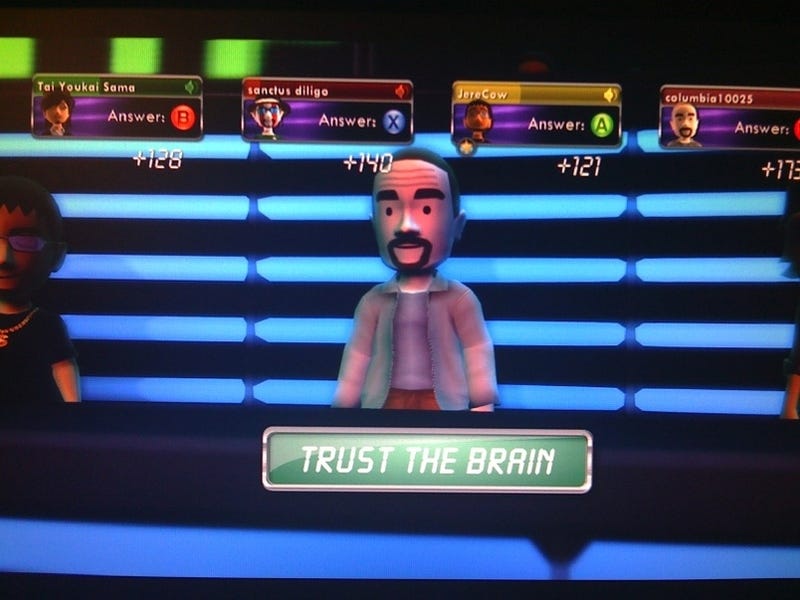 Deux-deux-deuxs and Cuban cigars are joined by the 1 vs. 100 closed beta on the list of semi-forbidden indulgences Americans are sneaking from across the great northern border. Virtually of course.
Update: The Canadian Beta closed tonight, rendering some of this moot. Sorry about that.
Kotaku reader Tai Youkai Sama figured out how to do it rather simply. He found nothing prevented him from creating a Canada-based Xbox Live account, then using it to send his U.S.-based account reminder notices the next time 1 vs. 100 went live. Bingo, when he accepted the notice, it allowed him to download the beta. And from there, he was able to invite plenty of Yanks - myself among them - to also download the game and peek in on the fun. Here's what I saw and what you might see, unless and until Microsoft tightens the IP filtering and kicks us out.
• In terms of news, or at least new-ish things, once the live show's over, you quit out of the game by exiting to the mythical Primetime channel (above). This was announced at E3 last year, then delayed from its original Nov. 19 launch. Primetime is where you'll find 1 vs. 100 and, presumably, other shows as Xbox Live builds out its content offerings. It allows you to schedule notices of upcoming events, but for now it appears to be region-locked, as it's inaccessible from Xbox Live once you exit the channel. Right now, the only show is 1 vs. 100, and the next broadcast, for U.S. players is listed as Dec. 31 at 3 am.