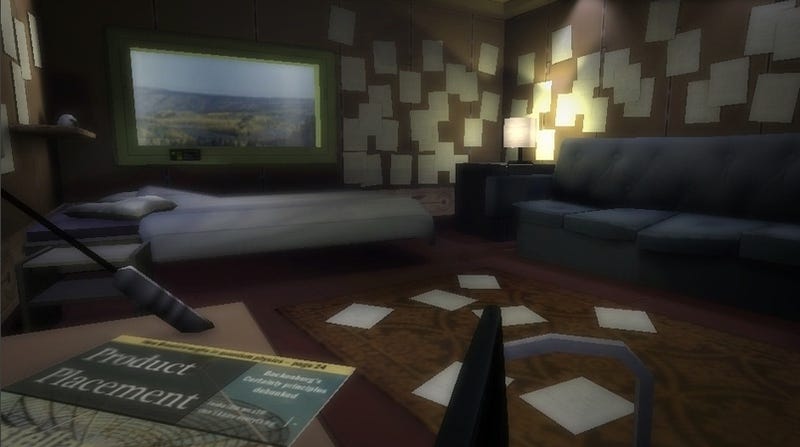 Nearly 24 hours after it went out in mid-April, John Warner checked on the numbers for Raycatcher - a game he and a partner designed and distributed over Steam. The first day, it sold 1,000 copies for $5. But pirates had also made 35,000 copies for free.
Warner, 25, an environmental artist who had worked at Relic Games on Dawn of War II, expected to lose copies to piracy. He'd already begun pondering what might be a third option in the ongoing zero-sum struggle between keeping gamers happy and ensuring they give you money for your work. But if nothing else, the torrenting of Raycatcher provided a good argument that someone in the indie sector should try building a game supported by product placements and in-game advertising. And after this experience he figured, why not him?
"I think people are voting - they're just not interested in paying for games any more," Warner said. "The DRM is getting cumbersome, and everyone hates it. I think we're at a point where indies have to consider a new revenue model. Because it takes a long time to make a game."
Warner and another partner, Mitch Lagran, 22, formed Vancouver-based Greener Grass Games to explore just that - a free, browser-based and ad-supported game. The thought of in-game advertising may make the skin crawl for the gaming cognoscenti who form the most evangelical constituency of independent development. The practice may be, on the AAA retail level, a disappointment so far, with slender prospects until a terrible economy rebounds. And browser-based games may have yet to catch on in North America the way they have elsewhere. But games are not built for free, and these two developers- and others - think it can be done at this smaller scale.
"I don't want to do anything The Man-ish," Warner said, acknowledging the stereotypical disconnect between an indie developer, who's supposed to be making better games because he's freed from corporate trappings, and product placements, a nakedly capitalist practice.
"But in order to make games consistently, we need to make money," said Lagran (left). "Otherwise, we can't pay the rent. And if people pirate a lot, advertisements make sense."
Warner had no illusions that Raycatcher (built with another partner) was going to make him rich. Just getting it onto Steam was a learning experience and an accomplishment, he said, akin to a writer getting one's first novel published. But the aftermath - from piracy to patching - poses disincentives to the independent developer, who began wanting to make the cool game he always dreamed of making, and finds that he's inherited a lot of problems and obligations he hadn't imagined.
"The money we're making off Raycatcher, it doesn't justify working on a project for a long period of time; I can't support myself on it," Warner said. Especially when you release a game, and it has bugs, and you have to fix them. In a certain sense, when you release something for money, it's almost like you create a liability for yourself."
The way Warner (right) sees it, the game he and Lagran really wanted to make - a narrative, 3D first person adventure set in an alternate reality - can be done quicker, more cheaply, and with fewer of the headaches that come from a commercial downloadable release like Raycatcher.
In their development histories, Warner as an artist, and Lagran as a programmer, shared the same zeal for the immense back story that is created during a game's design, and only partially revealed during its play. The game they are building, untitled as of now, opens that faucet of creativity. Through exploration and observation, players uncover how they got where they are, what they're supposed to do, and advance the story to its conclusion in a game reminiscent of the Sierra and LucasArts adventures of those companies' 1990s heyday, with elements of Myst.
Such a dependence on observation lends itself to advertising. What kind will players see? Their game, still untitled, will be a 3D, first person adventure, so everything you might see in the real world is on the table, Lagran says. Unity 3D, the engine they're using, supports video texture mapping, so a television displaying a video ad is one example. Outdoors, billboards are a given. Product and brand placement could show up as a poster in a character's bedroom.
"If there's going to be a poster on the wall, and a brand on that poster, you might as well make it a real one," said Lagran, a programmer whose experience includes work as an artist on PowerUp's Night of a Million Billion Zombies. Other possibilities include getting a link to a magazine article, targeted to their player demographics. Or opening up a laptop in a university setting in the game, and getting directed to the web site of that university, in real life.
For all of these, however, Lagran and Warner have to make separate and sometimes competing sales pitches, to gamers as well as advertisers. For advertisers, they're hawking a new and effective way to reach a targeted audience's eyeballs. For gamers, they're saying in effect, don't worry, if the advertising is done well, you'll barely notice.
"I've definitely played games with (in-game advertising) and it's never bothered me," Lagran said. "The only time it does is when it's out of context, the random logo that doesn't fit, like you're in a sci-fi world and you see the Apple logo."
So it's clear that the sponsors are going to have to fit organically into this story, somehow, says Warner, who offhandedly confesses a "seething hatred" for pushy, repeated or conspicuous advertising, probably because he's studied hypnosis. "I don't hate products or people making me more aware of products - I buy my clothes the same places as everybody else. But people getting leverage on me emotionally - Axe (body spray) makes people insecure about their sexuality for example - it's very manipulative and a form of bombardment. There are more tactful ways."
And that's where his and Lagran's sensibilities as artists will help an indie developer do it better.
"I could be delusional, but I haven't seen anybody else, really, doing it at this level," Warner says - meaning advertising within fully-rendered 3D games played online.
That points to another condition of the gaming market they hope to exploit: Low expectations. Casual flash games with advertising, while showing an audience increase (67 million in 2007 to 86 million in 2008, with a 28 percent bump in ad views, isn't looked to as any kind of a memorable gaming experience. "They're almost so casual that they're not considered real games," Lagran said. "We want to capitalize on the idea that these browser games are nothing, and make one that feels like a full-fledged game that you'd download…. I think that's where the industry is going to go."