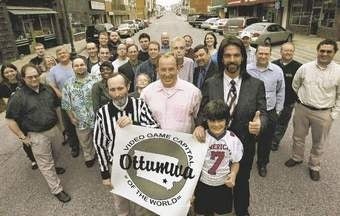 Barely a month old, the movement to place a video game hall of fame in Ottumwa, Iowa has formed a city-backed committee and is hiring legal services to incorporate itself as a nonprofit venture.
"We're going to step carefully and make sure we don't screw this up," said Terry McNitt, the executive director of the city's chamber of commerce. "This is a great opportunity. We want to do this right."
Ottumwa, an out-of-the-way city of 26,000 roughly 2 hours from Des Moines, reasserted its 27-year-old claim as "Video Game Capital of the World" at an event Wednesday, where the city also announced plans to study and pursue a game hall of fame and museum.