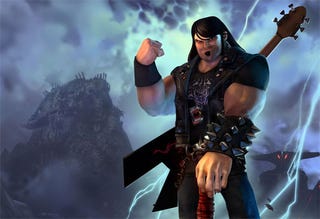 If art is about the personal vision of the artist or an exclusionary experience that separates those who get it from those who don't, Brütal Legend is a game that gets to be art.
Set in a fantasy world that has nothing to do with Tolkien and everything to do with heavy metal bands and Frank Frazetta artwork, this action-adventure game is the latest creative endeavor of gaming auteur Tim Schafer. Schafer's games have always had a funky and distinctive style made up of snappy dialog, quirky characters and strange dreamlike environments.
Brütal Legend satisfies all three Schafer distinctions to qualify as the work of an auteur.
A lot of hype has been building around Brütal Legend, not just from fans of Grim Fandango and Psychonauts, but from metal rock enthusiasts with a penchant for video games who finally have a way to combine the two. This is where the "exclusionary" experience comes in: the jokes, the visual appeal and the characters are all aimed at a Metallica-era crowd. That doesn't mean every gamer born after 1986 won't find something to enjoy about the game; but they might be missing out on the full vision Schafer's set out to create.
Take for example the lone mission demoed for games journalists at EA's Spring Break Event. It was actually the same level shown a week prior at GDC and many of the journalists in the room had already experienced it; but everyone seemed to want a second look just for the fun of it.
I hadn't gotten a chance to see the game beyond a single art direction panel at GDC, so I came to it with a clean slate. It'd been a long time since Grim Fandango for me and I was curious to see what kind of game my boss was talking about.