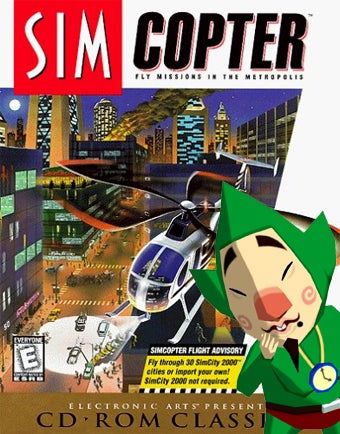 BioWare's censoring of homosexual terms on the Star Wars: The Old Republic forums was not a wise move, but they certainly weren't the first video game company to struggle with the issue of homosexuality.
And they almost certainly won't be the last. Homosexuality has long been a controversial issue amongst gamers, developers, and publishers alike. With the ever-growing popularity of online games, players often bring their intolerance online, sharing it with their friends, teammates, and guilds. This tends to lead to knee-jerk reactions from the industry, with an unfortunate emphasis on the word jerk.
Consider the example of SimCopter. A designer named Jacques Servin decided of his own accord to include a bit of beefcake in Maxis' SimCity spinoff, giving birth to "himbos". "Himbos" were shirtless, Speedo-clad men with nipples as bright as runway lights. The men would gather together in large numbers on certain dates, taking the place of some of the scantily clad women originally featured in the game. Servin, himself openly gay, included the bit of secret code on a lark, figuring Maxis would find it amusing.
They did not.
The Easter Egg was discovered shortly after the game's initial release, with 78,000 copies making it out the door beforehand. Jacques was terminated, and Maxis created a patch to remove the half-dressed men, also offering a service where customers could call in to get their disks replaced. Jacques' comments at the time neatly summed up the atmosphere of the early 90's.
"I didn't do it out of anger, just kind of `Why not?' I can't quite figure out why they would be so angry. It's not a game for kids; it's for 20-year-olds. But you put gay and kids anywhere in the same sentence and people explode."
SimCopter was released in 1996. A decade later and game developers were still reacting poorly to homosexual concerns.
In 2006, Blizzard scolded a player in their popular massively multiplayer online game World of Warcraft for advertising her guild as gay and lesbian friendly, claiming she was violating the game's harassment policy. Following up on the issue the player, Sara Andrews of Tennessee was informed that her advertisements might cause other players to become abusive. Players who otherwise would have been content to sit at the auction house shopping for spell components, driven to the brink of homophobic madness by the mere mention of gays and lesbians.