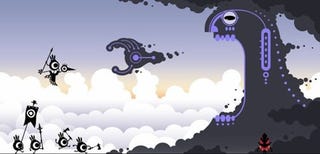 Sony may be taking a rather unusual step at retail with Patapon 2, making the PSP a digital download only, but still offering a boxed copy at retail. How would that work, exactly?
According to Ars Technica's unnamed sources, Sony will release the Patapon sequel via the PlayStation Store as downloadable goods, bypassing a UMD release for the boxed version in North America. What will ship with the box is a voucher for the game, according to Ars' report, which can then be downloaded to the PSP.
A recently updated GameFly listing may confirm that rumor.
The online rental outlet's Patapon 2 page now lists the game as "Not Rentable," a very recent change. GameFly typically lists a title as "not rentable" due to peripheral restrictions, as in the case of Eye of Judgment or Time Crisis 4, which require bundled accessories to play.
While the shipping of what is essentially an empty box may sound unusual, it may simply be a model that Sony is testing at retail, if rumors of the UMD-free PSP-4000 are accurate. Doing so with a budget priced PSP game, one that's already likely to appeal to an established fan base, would be a generally safe bet.