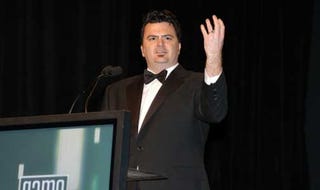 The Game Developers Choice Awards are about to kick off, with Megan Scavio and Simon Carless warming up the crowd for a night full of Tim Schafer jokes. Should be a smashing time.
While neither is as funny as Tim Schafer, we appreciate all their hard work in making GDC and the GDC Awards show happen. That, and they hired Tim Schafer to hand out awards and tell jokes.
Speaking of jokes, the Tim Schafer video game gave us a little primer. Hilarity is already setting in! Read on for up to the minute liveblog action.