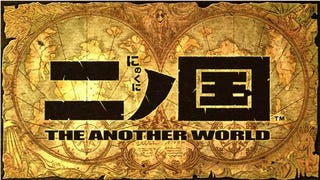 The secret to Level 5's success, says CEO/President Akihiro Hino, is having a really awesome trailer with lots of visual images that target the game's core audience. Said trailer's gameplay footage is "not final."
In a Q&A session following his "Level-5's Techniques to Producing a Hit Game," Hino said that the in-game footage that appears in trailers for games like Professor Layton and Izuma Eleven is usually taken when the game is "about 20% complete."
By that time, he said through a translator, the development team already has a pretty good idea of what they're going to make — so they're not worried about unfulfilled promises.
Their latest project, Ninokuni (The Another World), is no exception. At the end of the talk — and with a strong admonishment not to film or take pictures — they showed a neat trailer that includes only a few pieces of new stuff from what we saw at Tokyo Games Show: mostly lizards and swamp creatures that you may or may not have to fight and some more settings in the lush "Another" world and the bland "normal" world that the main character goes back and forth between with a magic book.