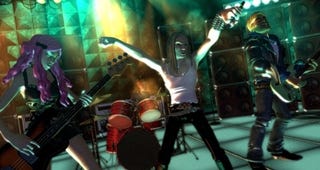 Contrary to your assumptions, Guitar Hero and Rock Band are not sneered at by all serious musicians.
By themselves they may not teach you how to be a part of a bona fide rock band, but two instructors whose job it is to do so say the games have some qualities that make them a worthy adjunct to a true musical experience.
"I know there are some haters out there," said Aldo Noboa, a guitarist of 30 years and co-founder of the Paul Green School of Rock Music. "But I'm always looking for ways to inspire people to experience music. And that's not a guitar, of course, but it's very, very interesting how they set it up. I definitely see some constructive aspects."
The benefits are not directly connected to making music, an experience both games only replicate at best (although Guitar Hero: World Tour's music studio mode goes a little further with musical experimentation.) But in nuturing an appreciation for music, or breaking down performance anxiety, or just letting someone get comfortable posturing with a prop guitar, rhythm games have a legitimate place, they say.
Big Kids
Studies and claims have tied the popularity of Guitar Hero and Rock Band to actual music performance for some time. A British study says the games' popularity have inspired children there to experiment with music. There are unverifiable claims Guitar Hero is responsible for a surge in sales of real guitars. And anecdotally, most know of someone who's bought a real instrument after falling in love with the game, or, at least, has thought about it.