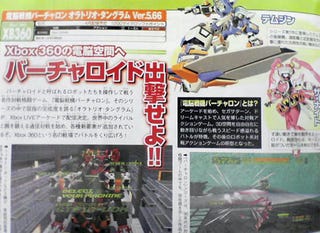 It's true. Sega is bringing Virtual On Oratorio Tangram, its hardcore arcade mech fighting game, to Xbox Live Arcade. The re-release has been officially announced in the latest issue of Japan's Famitsu Weekly.
The Xbox 360 release will be Cyber Troopers Virtual On Oratorio Tangram version 5.66, the final release for Sega's NAOMI arcade platform, released in 2000. The Xbox Live Arcade release, slated for April, has already been priced at 1200 Microsoft Points according to the mag.
Hopefully, the official announcement of VOOT means that more of Sega's Dreamcast and NAOMI titles are en route. After all, Sega registered the trademark for Virtual On Oratorio Tangram in December, alongside a slew of other Dreamcast era games over the past six months.