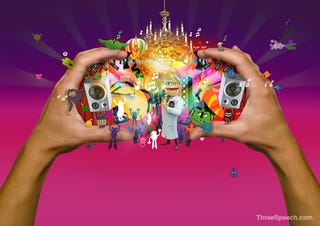 Hot from this week's annual Destination PlayStation meeting comes news of LittleBigPlanet, Rock Band and Assassin's Creed for the PlayStation Portable.
Rock Band Unplugged will include Wi-Fi support and a "fully-featured in-game store" for downloadable content in the North American and Europeans markets.
This fall will see the release of MotorStorm Arctic Edge and LittleBigPlanet for the PSP. These titles will be built from the ground up for PSP:
LittleBigPlanet — Developed in conjunction with MediaMolecule, the critically acclaimed game LittleBigPlanet makes its way to the PSP, offering new SackBoy adventures with the same play, create, share experience for gamers on-the-go, in addition to brand new levels and environments specifically created for the platform.
MotorStorm Arctic Edge — Developed by the award-winning Bigbig Studios, the team behind the best-selling Pursuit Force series, MotorStorm Arctic Edge sees the music, the festival and the brutal off-road racing arrive in the breathtaking yet lethal and unpredictable setting of Alaska. The game is also expected to hit the PlayStation 2 platform in Fall of 2009. Check out the trailer and screens here.