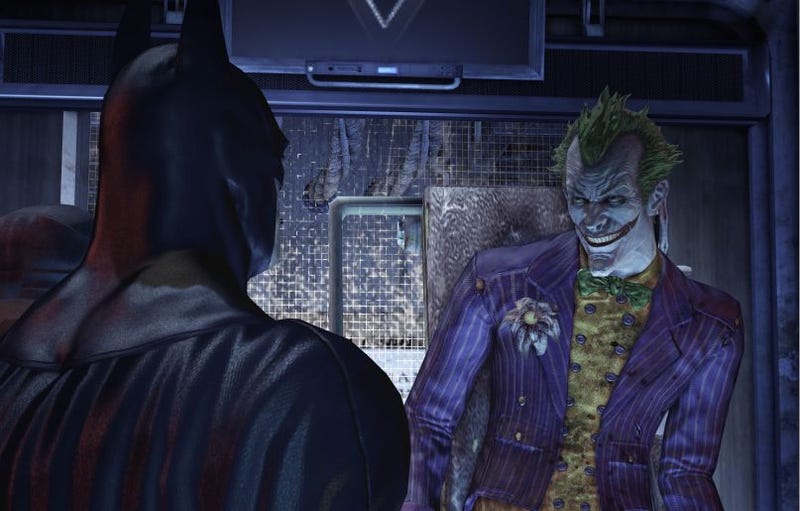 The first twenty minutes of Batman: Arkham Asylum say a lot about the game: we've got the voice cast of the 90s cartoon, action-stealth gameplay and the writer that brought us episodes of Animaniacs and Lost.
But if Paul Dini isn't enough to convince you that this Batman game is on the level, there's plenty more going on in Arkham Asylum that deserves a look. First, and most important for me, is the voice talent. Almost the entire cast in the game seems to be drawn from Batman: The Animated Series. The Dark Knight himself is voiced by Kevin Conroy, Harley Quinn is played by Arleen Sorkin and I'm pretty sure I recognized Commissioner Gordon's voice, but I can't be sure it's Bob Hastings.
The big star, though, is Mark Hamill as The Joker. I'm glad they got him instead of going for a Heath Ledger sound-alike –- it solidifies Arkham Asylum as a Batman game that stands apart from the movies. Besides, the role of main psychopath is a demanding one. From beginning to game over screen, the pinstripe-sporting super villain is there, taunting the caped crusader, goading him and generally being absolutely crazy at every opportunity. You need a star like Hamill to carry the performance.
The game starts pretty much how the trailer shows it: Batman escorts The Joker into Arkham, The Joker breaks free the second Batman is out of arm's reach, the inmates at Arkham bust loose and take over the whole island. There's also a plot point about Blackgate Prison being on fire, so a lot of Joker's minions wind up at Arkham just before the break out. Killer Croc makes an appearance early on, Harley Quinn helps herself to a nurse's outfit and a gun, and then the game lets the player take control of The Bat to try and get things under control.