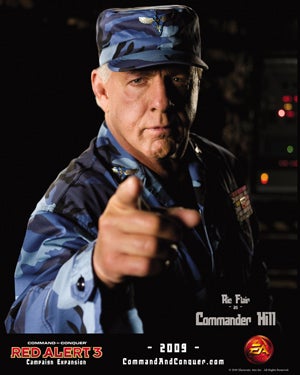 EA has announced the live-action cast of the Command & Conquer Red Alert 3: Uprising expansion, adding in a little ultra-violence, a bit of unfortunate anime adaptation, and a whole lot of Flair.
Ric Flair, that is. The 16-time world heavyweight wrestling champion joins an all-star lineup of new additions to the Red Alert 3 roster, portraying Commander Hill, one of the commanders players will take on in the new Commander's Challenge mode. Flair was understandably excited about the role.
"When I found out that EA wanted me to be part of Command & Conquer, all I could say was 'Woooooooooooo!'"
...okay. Flair was seen back in October filming something in the EA Los Angeles gym with a person in a bear suit. Not that that means anything...I just wanted to point that out.