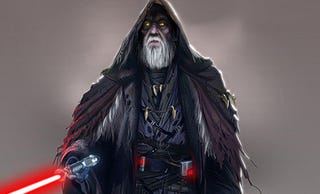 These are such things as dreams are made on, the colorful concepts of dying developers, the universes that will never be.
A recent glimpse into the unpublished works of a now-defunct game developer shows us one such universe which includes fabled Star Wars good guy Obi-Wan Kenobi, corrupted and evil.
In the original concept art for the unannounced, but long-rumored-to-exist video game Star Wars Battlefront III, we get a chance to wonder what could have been had Obi-Wan Kenobi fallen to the temptations of the Dark Side.