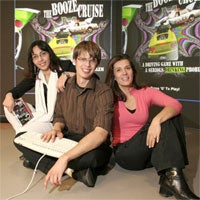 The U.S. Army is funding improvements to a drunk driving game developed at the University of Calgary, in hopes of reducing what they say is a growing drunk driving problem among soldiers returning from war zones.
Booze Cruise allows users to enter their weight and a number of drinks, then attempt to drive home using keyboard keys on their computer driving games. Reaction times are delayed and screen vision blurred, while they drive trying to avoid pedestrians, vehicles and other obstacles.
"What we're trying to show them is it's not possible to think yourself sober. Some people believe that if you just focus, you can drive really well," said Jim Parker, the University of Calgary professor of both computer science and fine arts who led the development of the game.
The game, which the army will start using in the next month or so, was initially developed in 2007, but the army provided funds to improve it.