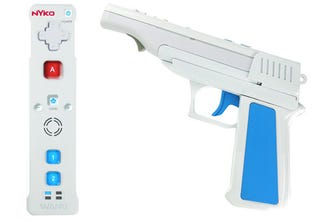 Debuting along with a few Wii charge kits at CES 2009, The Wand is Nyko's answer to the Wii Remote, featuring the ability to electrically replicate vibration feedback and control in attached devices.
Nyko's The Wand is a Wii remote alternative that features the company's all new Trans-Port technology. While current attachments to your standard Wii remote use mechanical triggers, and therefor cannot vibrate, The Wand can carry over electrical signals as well, meaning that peripherals attached can enjoy a whole-new level of control. In the gallery below you can see a pistol grip attachment they use as an example of the technology, which uses electrical signals to replicate key action buttons on the remote. Interesting.
Can't say I care for the color-scheme, which they've carried over from the recently released wireless classic controller, but functionally it sounds like a winner. The Wand should be hitting stores this April. Check out the press release below for Nyko's full CES line up!