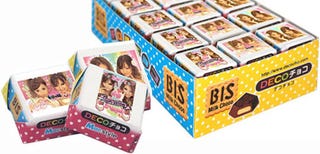 Anyone who has been to a Japanese arcade has seen sticker booths. Popular with young girls, sticker pictures these days can be downloaded straight to cell phones. That, and put on chocolate wrappers. Yum.
Japanese chocolate maker Tirol has been offering its
DecoChoco
service since earlier this year. Users take pictures of themselves, upload them to the computer to create personalized chocolate wrappers. Now Tirol is collaborating with Japanese purikura maker Furyu to offer this same service via game centers. DecoChoco sticker picture machines let sitters upload their sticker pics to the Tirol site and order a set of 45 custom chocolates for ¥2,362 (US$29). The DecoChoco arrive at doorsteps a couple weeks later. Nothing quite like eating snacks with your own cute, smiling face on it. Nothing.
Furyu
[Official Site via
CScout
]