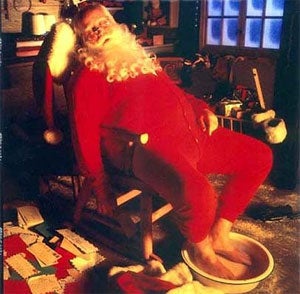 As a part-time gamer, Christmas must be brilliant, because not only do you get some time off work to play games, but you'll probably receive games for Christmas as well. Double score.
But if you're a serious gamer? Christmas is AWFUL. There are too many quality games on offer over too short a timeframe, meaning titles that may otherwise have been given a serious look are lost amidst the Gears of Wars and the World At Wars of the world.
At least, that's the current state of affairs. But as an economic crisis looms once the holiday spending season draws to a close, could it be coming to an end?
Consider the holiday "failures" for 2008. And by "failure", I mean a game released by a major publisher, and that enjoyed the backing of a major publisher's marketing campaign, that failed to live up to critical and/or commercial expectations. Rock Band 2 and Guitar Hero: World Tour undersold. Nearly everything EA put out – but especially Dead Space, Need for Speed and Mirror's Edge – tanked. Sony's big holiday titles, LittleBigPlanet and Resistance 2, have also been disappointing, albeit for different reasons (nobody is buying LBP, while Resistance 2 was just plain old disappointing).
Those aren't the normal, run-of-the-mill, 7/10 games that are normally swept away by the Christmas tide. That's the combined holiday lineup of Electronic Arts and Sony Computer Entertainment.
You can bet alarm bells are ringing at SCE, just like they're ringing at EA. Thing is, at a time where people are tightening their belts, what did they expect?