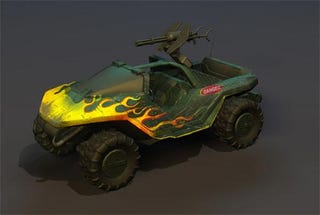 Microsoft has just announced the official release dates and pre-order information for Halo Wars, their action-based strategy take on the Halo universe.
Halo fans in North America, South America, Canada, and Mexico will finally get their taste of a more strategic Halo experience on March 3rd, a few days after the rest of the world gets theirs. Japan and the Asia Pacific regions will be getting the game on February 26th, while Europe, the Middle East, and Africa will receive it a day later on the 27th. Fans who pre-order the game will get an exclusive in-game Warthog burning with a fiery paint job.
Hit the jump for more details on the first T-rated game in the Halo series, along with details on the Limited Collector's Edition we've already told you about.