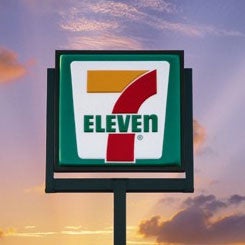 Getting the biggest games days before street date is about to get a whole lot easier thanks to 7-Eleven. The convenience store chain is expanding its video game offerings beyond what it currently carries, typically guaranteed blockbusters like
Gears of War 2
,
Fallout 3
and
World of Warcraft: Wrath of the Lich King
or games tied to Slurpee promos like
Halo 3
. Michael Jester, 7-Eleven category manager for gaming and electronics said in a statement "This is not just a holiday promotion for us, but a brand new product line-up that will be available year-round." In addition to seeking to become the "most convenient destination" for the hottest video game titles, 7-Eleven will be ramping up the number of pre-paid gaming cards it carries. That includes MMOs like Guild Wars and City of Heroes, as well as pre-paid cards for Xbox Live and PlayStation Network. Oh, we'll
definitely
come again if this work out.
7-Eleven® Gets in the Game Retailer Sets Sights to Become Most Convenient Destination for Hottest Video Titles, Prepaid Game Cards DALLAS—(BUSINESS WIRE)—Gamers never die; they just grow up … and continue to play … and play … and play. Today, the average gamer is not in his teens, but in his early 30s and, not surprisingly, most likely male. They play at home, at social gatherings, at work (shhhh) and online. That's good news for 7-Eleven, Inc. whose customer base skews heavily male between the ages of 18 and 34. The world's leading convenience retailer is ready to take the proverbial plunge into video game sales after dabbling in it over the past years with successful Slurpee® beverage promotions aimed at top-selling game franchises like Microsoft's Halo and EA Sport's Madden. This month, participating 7-Eleven® stores introduce a line-up of seven of the top video game titles for sale as well as one of the most comprehensive selection of prepaid gift cards for another growing gaming phenomenon – Massively Multi-player Online Games, or MMOGs. "Video games aren't just for kids anymore, and they're not just sold at big box and game stores either," said Michael Jester, 7-Eleven category manager for gaming and electronics. "We can compete with the major players and offer consumers a more convenient place to purchase games and accessories. They can pay a deposit and reserve their copies ahead of time and pick them up starting midnight (12 am) on the release date at locations closer to their homes." The video game industry is a $12 billion business and growing. A recent survey by the Entertainment Software Association found that 65 percent of American households play computer and video games, with 41 percent of Americans expecting to purchase one or more games this year. Of the top-selling games, 85 percent are rated E for "Everyone" and T for "Teen." "AAA" VIDEO GAMES "AAA" games, as they're called in the industry, are the top-selling, most anticipated games, often sequels with proven appeal to both serious and casual player alike. Suggested retail prices are $59.99 for Xbox 360 and PS3 games, $49.99 for Nintendo Wii, and $39.99 for PS2. Predicted to be the hottest sellers this holiday season, these game titles are available at 7-Eleven stores while supplies last: * Guitar Hero: World Tour-Band Kit (Microsoft Xbox 360, Sony PlayStation 3 and PlayStation 2, Nintendo Wii) * Fallout 3 (Microsoft Xbox 360, Sony PS3, personal computer or PC) * World of Warcraft: Wrath of the Lich King (MMOG available on PC only) * 007: Quantum of Solace (Xbox 360, PS3 and PS2) * Gears of War 2 (exclusive to Xbox 360) * WWE Smackdown vs. Raw 2009 (Xbox 360, Sony PS3 and PS 2) * Call of Duty: World at War (Xbox 360, PS3) "This is not just a holiday promotion for us," Jester said, "but a brand new product line-up that will be available year-round. We may not be a total entertainment destination … yet, but we're hoping to expand our selection beyond the high-dollar, hot- selling games to include options for all budgets, like value-priced video games as well as DVD movies. For consumers wanting convenient one-stop shopping for at-home entertainment along with groceries and gas or who just want to avoid big-store shopping inconveniences, their local 7-Eleven store is open and ready." PREPAID MMOG GIFT CARDS Displayed right next door to the console games is a broad selection of online game gift cards to make virtual purchases in MMOGs or pay for your monthly subscription. Played on the Internet, these online games feature at least one virtual world and enable players from around the world to communicate, cooperate and compete with each other. "MMOGs got their start in Asia, but have gained a worldwide audience of millions," said Brian Haynes, 7-Eleven category manager for services. "In November of 2007, 7-Eleven was the first convenience retailer in the U.S. to introduce the Nexon gift card, its first foray into the world of MMOGs." This year, the number of prepaid game cards available at participating 7-Eleven stores has expanded to approximately 20 different cards in varying denominations. So popular have these prepaid game cards become that 7-Eleven is placing a major focus on this growing segment of the prepaid business this year next. While most games are free to play, players can use microtransactions, an innovative cash-shop system that allows payments of little as a quarter for a virtual item, to make purchases to individualize their characters and create unique identities. These features are purely optional, and players can try out items in virtual dressing rooms before making a purchase. They can also spend cyber-dollars to unlock clues and levels of the different games. Most top-selling video games have action- or battle-oriented objectives popular with male players. Many of the online MMOGs, however, are classified as "casual," "role-playing" or "experiential" and attract a higher percentage of female players. The 7-Eleven prepaid game card line-up includes Nexon, Habbo, Gaia, Guild Wars, gPotato, Runescape, Aeria, City of Heroes, Exteel, ijji, IMVU, Neopets and Sims2 prepaid game cards. Sold primarily in denominations of $10 and $25, many of the cards can be used to make purchases within multiple online games. 7-Eleven and Slurpee have a presence in some games where players can receive a FREE Slurpee Machine to place in their virtual room. Along with the prepaid MMOG cards, 7-Eleven offers prepaid gift cards for the two biggest game platforms – Sony PlayStation Network and Microsoft Xbox Live. Players can use the Xbox and PlayStation gift cards to download new games, and game content and access playable demos of upcoming releases. "We think video games will be a great year-round seller for us," Jester said. "Whenever a big-name game is released, it creates instant demand, and we plan on being there to meet it."