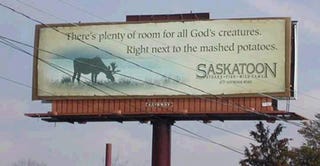 We've been following the PETA Cooking Mama back and forth with bated breath. First PETA created a
gruesome, but sort cool take on Cooking Mama
, using the doe-eyed chef to highlight some issues the People for the Ethical Treatment of Animals have with Thanksgiving. Then
Majesco responded
, pointing out that their games have plenty of vegetarian recipes, and even taking the issue to Cooking Mama herself for some overly cute quotes about animal lovin'. Now PETA, quick to recognize a publicity train when they see when, have responded in an open letter, telling Majesco just how much they love their Cooking Mama games and asking for a vegetarian-only Cooking Mama game in the future. They're even offering to help promote it, if the vege game comes to fruition.
Dearest Mama,
On behalf of everyone who worked on Cooking Mama: Mama Kills Animals, The Unauthorized PETA Edition, I wholeheartedly want to thank you for the hours of enjoyment you have provided us through your various Cooking Mama games. We played and studied them as we prepared our lighthearted parody of your successful series. Based on your and Majesco's good-natured responses to PETA's game, I think you understand that although we made you into a demonic, knife-wielding maniac in Cooking Mama: Mama Kills Animals, we still love you. While we had a good time roasting you, the real purpose of our game, of course, was to bring to light some of the horrific practices of the turkey industry. And we mean the animals who are actually mistreated—not the virtual ones you cook up in your digital kitchen. I'm sure you'll be happy to know that, as a result of our game, tens of thousands of people have watched undercover footage from turkey factory farms, and hundreds of thousands have been exposed to the idea that how we treat animals matters. It's great to hear that you want to "make the world a happier place," because that's pretty much what we want to do too (though it seems that we might have different tactics …). I do hope that you seriously consider making a vegetarian diet a part of your strategy for world happiness. By adopting a vegetarian diet, you can save more than 100 animals per year. Plus, vegetarians live longer and have a considerably lower carbon footprint. I know that—as you are a digital being—these benefits don't exactly apply to you, but I still urge you to take the pledge to be veg for 30 days. Even if you don't take the plunge into the wonderful world of vegetarianism yourself, I still hope that you will consider making a vegetarian-only Cooking Mama game. There is such a variety of international cuisine, including Indian, Thai, Japanese, and Middle Eastern cuisine, with an abundance of vegetarian and vegan options for you and your followers to explore. If you do decide to move forward with Cooking Mama: Vegetarian Kitchen please contact us so that we can help promote your game to our over 2 million members and supporters. I already look forward to playing it!
Best, Joel Bartlett Assistant Director of Marketing People for the Ethical Treatment of Animals P.S. Please give Max a big hug from everyone at PETA!
Uh-oh, I hope
PETV
doesn't catch wind of this. [Thanks PETA]