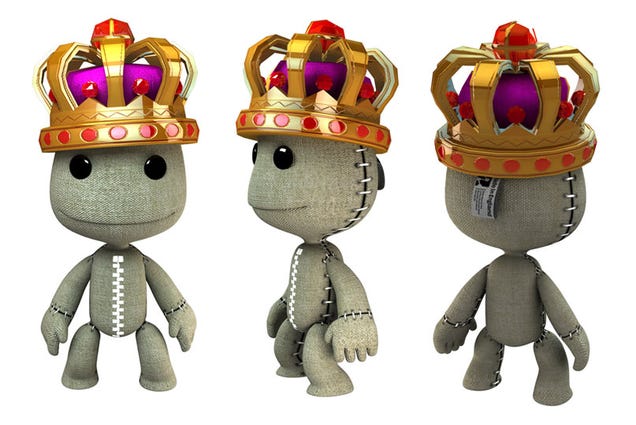 Sony are running a LittleBigPlanet contest. If you live in the US, you're tasked with designing a level. If it's a winner, you win a prize. Our concerns are twofold: 1. The prize is a crown. It's just another costume.
Greeeaaatt
. Look, t-shirts and crowns are nice (we guess), but this is a competition, not some chance to trick the kids into paying money for the privilege of
marketing LocoRoco 2
for you (though we will
gladly
pay to help advertise Ico 2). Where are those custom, themed
levels
we heard so much about? 2. OK, that first one wasn't really a concern. More some late-night whining. But this second one raises a few more questions/issues. Look at the competition rules. "1. Create an original LittleBigPlanet level celebrating the PLAYSTATION 3 second anniversary". Should be a piece of cake. Oh, provided you weren't going to pay homage to your favourite PlayStation® console or favourite PlayStation® game
by recreating any of their intellectual property
, that is.
LittleBigChallenge - Celebrating PS3's 2nd Anniversary
[Sony]