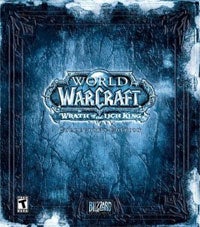 Because Target.com may still have some. While most collector's editions can be found clogging shelves months or years after their ship date,
World of Warcraft
's limited boxes tend to move quickly,
actually
selling to
actual
collectors. The expansion
Wrath of the Lich King
is no different, with the CE becoming
increasingly hard to find
. For stragglers, reader Joshua tips us off to Target's online store, which is still selling pre-orders of the thing. While we wouldn't pin your hopes on Target as
WoW:WotLK
savior — note: Amazon manages its inventory, but the CE doesn't show as available at the online retailer — it's a good back up.
World of Warcraft: Wrath of the Lich King Collector's Edition for PC
[Target - thanks, Joshua & Roufuss!]