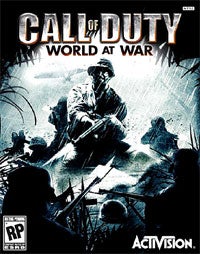 Much like they did previously for
Super Smash Bros. Brawl
, video game retailer GameStop is getting ready to launch a nationwide tournament for Activision's latest war game, Call of Duty: World at War. The tiered tournament kicks off this Friday at GameStop locations around the country, featuring one-on-one, single-elimination style rounds. The best players from each store will then go on to the District semifinals on January 16th, then the Regional finals on January 23rd, all leading up to the championship event held on February 27th on the deck of the USS Midway aircraft carrier in San Diego. The grand prize? $2,500 dollars in cash, which actually doesn't sound all that overwhelming as far as prizes go. Still, a free trip to San Diego is nothing to sneeze at, unless of course you live in or close to San Diego. Bragging rights are always nice? Anyway, head over to
http://www.gamestop.com/codworldatwar
for the details on how you can win a modest chunk of money and a trip of varying lengths.
GameStop Hosts Call of Duty®: World at War National Tournament
Players Compete in Newest Edition of Award-Winning Franchise for the Opportunity to Win $2,500 and A Chance to Play on the USS Midway Aircraft Carrier GRAPEVINE, Texas—(BUSINESS WIRE)—GameStop, Corp. (NYSE:GME), the world's largest video game and entertainment software retailer, today announced that it will host a national tournament featuring the hit title from Activision Publishing, Inc. (Nasdaq: ATVI), Call of Duty: World at War. Players will initially compete at approximately 2,000 U.S. GameStop locations for a chance to win cash and prizes and battle in the finals aboard the USS Midway Aircraft Carrier. The tiered tournament will kick-off Friday, November 14, 2008, and provide players with an opportunity to test their skills in the year's biggest war epic one-on-one with other contestants in a single-elimination tournament. Many of the participating GameStop locations will begin their tournaments at 9 p.m., local time; however, customers are encouraged to contact their local store to confirm the exact time of the tournament. All contestants must check-in at least thirty minutes prior to the start of play and you must be at least 17 years old to attend or participate in the event. The nearly 8,000 round one winners will advance to a series of District semifinals on January 16, 2009; winners of these competitions will advance to the Regional finals, which will take place on January 23, 2009. The 32 Regional finalists will move onto the championship event, to be held on February 27, 2009, on the deck of the USS Midway aircraft carrier in San Diego, CA. The Grand Prize winner will receive $2,500 in cash. For additional tournament details and to obtain a list of official rules, visit http://www.gamestop.com/codworldatwar. Call of Duty: World at War completely re-defines WWII by thrusting players into the ruthless and gritty chaos of combat like never before, challenging them to band together to survive the most harrowing and climactic battles of The War that led to the demise of the Axis powers on the European and Pacific fronts. Built using the Call of Duty 4®: Modern Warfare engine, Call of Duty: World at War provides an uncensored experience with unique enemies and combat variety, including Kamikaze fighters, ambush attacks, Banzai charges and cunning cover tactics, as well as explosive on-screen action through all new cooperative gameplay. Call of Duty: World at War is now available for the Xbox 360® video game and entertainment system from Microsoft, Games for Windows®, PLAYSTATION®3 computer entertainment system, Nintendo® Wii™ and Nintendo DS. The title has been rated M for Mature for blood and violence by the ESRB. The Nintendo DS version has been rated T for Teen by the ESRB. For more information and exclusive updates about Call of Duty: World at War, visit www.callofduty.com.