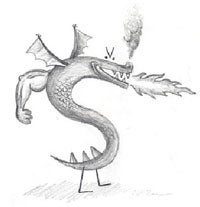 Oh this is it. The one you've all been waiting for. There's just two episodes left in the first season of Strong Bad's Cool Game For Attractive People, and Telltale has saved the best for last. Episode four, due out November 17th, will be Dangeresque 3, the long awaited final installment in the low-budget action movie trilogy, written by, starring, and directed by Strong Bad. Help Dangeresque defend the world from his arch nemesis, Uzi Bazooka, unlocking special deleted scenes from the film you can only access once the final credits roll. And after that... TROGDOR! Nothing warms up a cold winter evening like being set on fire by a dragon with one giant arm and consummate V's. Grab episode four for a sneak peek at episode five, and prepare to be burninated, probably.
Strong Bad's Cool Game for Attractive People Builds to Big Finish With Episodes Featuring Dangeresque and Trogdor
New Episode to Release November 17 on PC and WiiWare, Followed by "Burninating" Season Finale SAN RAFAEL, Calif.—(BUSINESS WIRE)—Starring in a popular web cartoon wasn't enough. Strong Bad, who has been answering fan emails on Homestarrunner.com since 2001, is now dominating PC and WiiWare™ gaming in Strong Bad's Cool Game for Attractive People, an episodic series created by Sam & Max developers Telltale, Inc. and Homestarrunner.com creators Mike and Matt Chapman. Starting this month, the series is barreling to an exciting climax with two episodes featuring the franchise's most iconic characters: Dangeresque, a crooked cop in pursuit of glory, justice (sort of), and big sacks of cash, and Trogdor, the one-armed dragon who burninates peasants across the land. First up is Dangeresque 3, Strong Bad's oft-delayed cinematic oeuvre, set to release November 17. The final installment in a low-budget action trilogy starring, written by, and directed by Strong Bad, Dangeresque 3 has been teased on Homestarrunner.com for five years. Unlike the first two "movies," which took the form of online cartoons, Telltale's Dangeresque 3 game places you inside the film in the role of the title character, with Homestar Runner, The Cheat, Strong Mad, and the rest of the Homestarrunner.com crew rounding out the cast. Complete with shaky camera shots, flubbed lines, and awkward post-production editing, Dangeresque 3 provides the humorous, homemade movie experience Strong Bad fans have come to expect, plus an added layer of interactivity. In Dangeresque 3, what starts as a simple job to recover a long-lost formula morphs into a race to save the world from Dangeresque's unhinged nemesis, Uzi Bazooka. The filmic fantasy is maintained throughout the game, down to the inclusion of interactive "deleted scenes" accessible only after the main storyline has been completed. The original Dangeresque cartoons and a preview of the upcoming game can be viewed at www.dangeresque3.com. Then comes Trogdor! After months of speculation, Telltale is confirming the infamous dragon's involvement in the fifth and final Strong Bad episode. A glimpse of the menacing Burninator—plus another surprise for longtime fans—can be seen starting on November 17, in the preview video included with Dangeresque 3. Like episodes of a television sitcom, the Strong Bad games are self-contained and new players can jump in with any episode. The first three episodes are available now, for PC from www.telltalegames.com/strongbad, or for the Wii™ console through the Wii Shop Channel. Fans anticipating Dangeresque 3 can preorder the PC version from Telltale, either individually or as part of a 5-episode season pass.