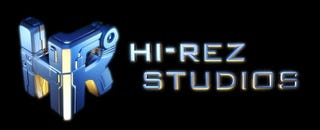 A heads up for folks in the Atlanta area tomorrow, Alpharetta-based game developer Hi-Rez Studios is holding a special MISSION: Pwning For A Cure event tomorrow at the Computer Arena is Roswell befitting the Leukemia and Lymphoma Society. The event will feature game development seminars held by Hi-Rez staffers, a charity auction and raffle, and the first public unvieling of
Hi-Rez's action MMO, Global Agenda
, culminating in an All-Star battle between the game's best players, with color commentary by my good friend Bobby Blackwolf broadcast live over at
Allgames.com
. I might even weasel a few words in there myself. Yes, I will be there for the better part of the day, so if you see a tall guy with Final Fantasy characters tattooed on his arms, that's probably me. The event kicks off at noon and runs til 5PM. It's a damn fine reason to get up off your ass for a good cause. Hit the jump for full details, and maybe I will see you there!
HI-REZ STUDIOS AND THE LEUKEMIA & LYMPHOMA SOCIETY ANNOUNCE DETAILS FOR MISSION: PWNING FOR A CURE
All-day charity event unites video gamers to defeat blood cancers. ("Pwn" is video gamer slang for defeating an opponent, a colloquialism based on the misspelling of "own," usually issued as a boast after a particularly heated and/or public virtual contest.) ATLANTA, Georgia – October 28, 2008 - Hi-Rez Studios, an independent developer of online entertainment, today announced additional community partners and a full game-development seminar schedule for MISSION: Pwning for a Cure, Hi-Rez's upcoming charity event held in concert with the Leukemia and Lymphoma Society. The event, co-sponsored by the Georgia Department of Economic Development's Film, Music & Digital Entertainment Office, will be held at the Computer Arena in Roswell, Ga., on Saturday, November 8th from noon to 5 p.m. The day, targeted toward the gaming enthusiast, includes seminars on video game development, a chance to play games with your friends, a silent auction, raffle, prizes, music and food. It also features the first public preview of Global Agenda, the upcoming debut title from Hi-Rez Studios. Attendees can play both solo and player-vs-player missions inside the virtual world of Global Agenda, being among the first to experience the game's fast-action, immersive play style. All-access admission into the event is free to the public. Donations to the Leukemia & Lymphoma Society are encouraged and greatly appreciated. Additional community sponsors of the event include the Art Institute of Atlanta, Rickwood Music, a provider of music for media, the Entertainment Consumer Association's (ECA) Atlanta Chapter, a non-profit membership advocacy organization for consumers of interactive entertainment, and Habif, Arogetti & Wynne, LLP, Certified Public Accountants and business advisers. A charity raffle and auction will include limited 1st Edition Global Agenda collectibles, a Sony PlayStation Portable, iPod Nano, and more. Items have been donated by TotalTek/Hewlett Packard, Gamer Fitness Guide, and Digital Direct, an extreme data storage provider, among others. Global Agenda merchandise will also be on sale, with all merchandise proceeds benefiting the Leukemia & Lymphoma Society. The event will conclude with an All-Star battle featuring the games' best players. The All-Star battle will be broadcast through a live audio stream on Allgames.com with color commentary from Georgia's own Bobby Blackwolf. Hi-Fi Buys is contributing state-of-the-art high definition televisions through which attendees can be immersed in the battle. For the media, a press conference featuring Todd Harris, Executive Producer of Global Agenda, and Asante Bradford from Georgia's Department of Economic Development's Film, Music and Digital Entertainment Office, will be held starting at 3:30 p.m.
Game Development Seminars
Hands-on game development seminars, taught by the developers of Global Agenda, will be held in dual sessions from 12:30 p.m. to 3:30 p.m. Seats will be made available on a first come, first served basis, so attendees are encouraged to come early to reserve a spot. Eric Hartz, lead environment artist for Global Agenda, will lead a session on Environment Art Development using the Unreal 3 Engine. Eric will walk participants through the artistic development of a simple level all the way through the lighting process. The session will examine assets created in 3D Studio Max and textures made in Photoshop, showing how each element is assembled for the final assets seen in-game. CHUK Vinson, Art Director, and Sean McBride, Senior Character Artist, will lead "Character Creation in Global Agenda". The session will discuss how to create engaging character concepts that capture the imagination and inspire the player while still conforming to the necessarily rigid constraints of game design. The presentation will cover the modeling techniques and speed enhancement tricks used at Hi-Rez to create high-fidelity multiple character ranks and sexes from one base model in weeks. Lead animator Daniel Lilleberg and lead technical artist Mick Larkins will discuss the process, practices, and philosophies of the Global Agenda character animation pipeline. Their presentation demonstrates the specific tools and methods for creating character animations, rigid-body physics, skeletal controls, audio, and special effects. While the presentation revolves around the specific Global Agenda, 3D Studio Max, and Unreal Engine 3 procedures, the approaches can be applied to a variety of games. About Hi-Rez Studios Hi-Rez Studios, Inc. was established in 2005 to create exceptional online interactive entertainment and is located just outside of Atlanta, Georgia. For more information, visit www.hirezstudios.com. GLOBAL AGENDA, Hi-Rez's debut title, is a fast-paced action massive multiplayer online game set in Earth's near future, a spy-fi world of advanced technology and player-driven conflict. To learn more, visit www.globalagendagame.com. About Computer ArenA Computer Arena, the Southeast's largest gaming facility, offers more than 50 PC and console LAN gaming stations, computer education classrooms, sales and services, and the Good Times Café. The ArenA is located at 10895 Alpharetta Highway in Roswell, GA, 30076, near the intersection of Route 9 and Mansell Road. About Leukemia & Lymphoma Society The Leukemia & Lymphoma Society®, headquartered in White Plains, NY, with 68 chapters in the United States and Canada, is the world's largest voluntary health organization dedicated to funding blood cancer research and providing education and patient services. The LLS mission: Cure leukemia, lymphoma, Hodgkin's disease and myeloma, and improve the quality of life of patients and their families. Since its founding in 1949, LLS has invested more than $600 million in research specifically targeting leukemia, lymphoma and myeloma. Last year alone, LLS made 6.3 million contacts with patients, caregivers and healthcare professionals. For more information about blood cancer, visit www.LLS.org or call the LLS Information Resource Center (IRC), a call center staffed by master's level social workers, nurses and health educators who provide information, support and resources to patients and their families and caregivers. IRC information specialists are available at (800) 955-4572, Monday through Friday, 9 a.m. to 6 p.m. ET.