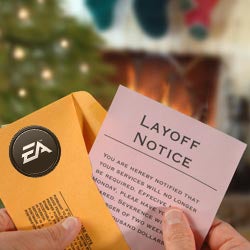 All in the valley of death
rode 600 Electronic Arts employees this week, one
high
lowlight in our report of the past week. Speaking of suicidal courage Tennyson would admire, McWhertor tackled the Guitar Hero World Tour KFC Fully Loaded Box Meal
Gary Busey Outer Helmet Protector Protector
and came away feeling like he had consumed a cannonball (the Light Brigade ate a few of them, too). Be glad that one didn't get the [UPDATED] flag an hour later. Brian ranted about half-assed reviews; we in turn provided three whole-assed ones, of LittleBigPlanet, Fallout 3, and Spider-Man: Web of Shadows. Half a league onward with the week in Originals, on the jump.
Electronic Arts Lays Off Six Hundred
One of You Will Get This Nintendo DSi
LittleBigPlanet Review: Play, Create... Share?
Fallout 3 Review: Wasting Away Again In Radiationville
Welcome Home: Hanging Out PlayStation Style
NXE Impressions: Netflix Set Up & Streaming
NXE Impressions: Creating An Avatar, Playing With My Xbox
The Rush To Review
Guitar Hero: World Tour KFC Fully Loaded Box Meal Unboxing, Impressions
Electronic Arts Set to Distribute Harmonix' Beatles Game [UPDATE]
This Is How The DSi Launches
It's the Great Gaming Pumpkins
Spider-Man: Web Of Shadows Review: A Tangled Web
Five True Tales Of Gamer Horror
How Gaming Is Approaching Uncanny Valley
Saluting Fallout 3's Beards
Let's Check One Store For DSi Launch Lines
How The DS And Wii Are Doing Sales-Wise
Which DS And Wii Games Have Been Selling? Let Us Tell You
Konami Forecasts Its Financial Statement
Frankenreview: Fallout 3
You Gotta Have Faith: Does Style Beat Out Realism
SNK Announces New Corporate President
Animal Crossing, WiiSpeak Bundle Confirmed
Fable II LE Code Solution Live - Microsoft Is Watching
Europe's TENTH Xbox 360 Bundle (This Time With Lips)
$99 Xbox 360 Bundle Has Everything The Arcade Doesn't
German Left 4 Dead Cover Is Only Half-Censored
Breaking Records: How Not to Get in the Guiness Book With a DS
Frankenreview: Guitar Hero World Tour
Portal: Still Alive Review: This Is Barely A Triumph
Check Out My Sweet Pip-Boy Watch
Adhoc Party for PSP Delayed
Drawn To Life Devs Punk Vacationing Staffer With Drawn To Life Desk
Street Fighter Club Invades Brooklyn
Meet The Official Guitar Hero World Tour Seat
The Future of LittleBigPlanet: From Live Editing, To Stat Tracking And Sequels
Hands on With Jenga Donkey Kong Collector's Edition
Fable II Fixes On The Way, Missing LE Codes Resolved Tomorrow
Japan Continues to Go Space Invader Crazy With Free Games, Kit Kat Bars
Europe's Version Of Qore: The Details