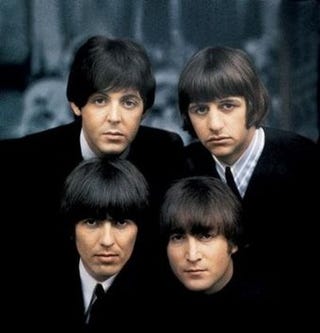 I just had an alert drop in my mailbox from MTV. Apparently MTV Networks, owners of Harmonix, and Apple Corps Ltd, administrators of The Beatles releases of the 1960s, are holding a press conference tomorrow to make some announcement about an "exclusive agreement to develop a global music project." The release lists a number of media contacts, including one of the main PR folks for Rock Band 2. This seems to back up what the Financial Times
reported back in June
. Though at the time it sounded like both Activision and Harmonix were wooing Apple Corps. Did Guitar Hero get the shaft or is another announcement, this one with Activision, hitting later this week? We'll update once we can needle out more official word.
Apple Corps Ltd. and MTV to Announce Exclusive Agreement to Develop Unprecedented Global Music Project
WHAT: Apple Corps Ltd. and MTV to announce an exclusive agreement to develop a global music project. WHO: Jeff Jones, CEO of Apple Corps, Ltd. Judy McGrath, Chairman and CEO of MTV Networks Van Toffler, President of MTV Networks Music/Logo Group WHEN: Thursday, October 30, 2008 2:00 pm UK Time, 10:00 am ET, 7:00 AM PT About Apple Corps. Ltd. Apple Corps Ltd. was founded by The Beatles in 1968 to look after the group's own affairs. The London-based company has administered the catalogue of The Beatles releases of the 1960s that have sold to date more than 600 million records, tapes and CDs. Since the 1990s Apple has piloted new Beatles projects that have become benchmarks for pioneering accomplishment and which have included The Beatles Anthology projects, the 28 million-selling album The Beatles 1 and the The Beatles LOVE show and CD. Further information on The Beatles' projects can be found at www.thebeatles.com. About MTV Networks MTV Networks, a unit of Viacom (NYSE: VIA, VIA.B), is one of the world's leading creators of entertainment content, with brands that engage and connect diverse audiences across television, online, mobile, games, virtual worlds and consumer products. The company's portfolio spans more than 150 television channels and 350 digital media properties worldwide, and includes MTV, VH1, CMT, Logo, Harmonix, Nickelodeon, Nick at Nite, Noggin, The N, AddictingGames, Neopets, COMEDY CENTRAL, Spike TV, TV Land, Atom, Gametrailers and Xfire.