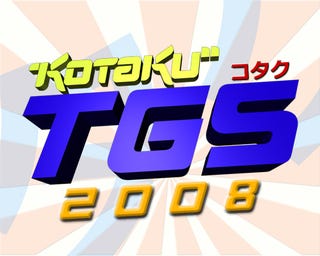 Tons and tons of news came out of this year's TGS over the weekend. From the announcement of
Halo 3: Recon
to
Tekken 6: Bloodline Rebellion
coming to Xbox 360, Kotaku covered it
all
, and at the expense of sleep, no less. It's all right here after the jump! So what do you, the commenter, think was the biggest piece of news to come out of Tokyo?
Namco Bandai's Teenage Boy Friendly Line Up Dated
Tetsuya Mizuguchi Is Making New IP
Microsoft Has Over 140 Demo Kiosks, Buddies With Square Enix
Sorry, But Ninja Blade Is *Not* Otogi 3
Tecmo Announces New Third Person Shooter
Monster Hunter Portable 2nd G Sells 2.5 Million In Japan
This is Your Tokyo Game Show 2008
Tekken 6 Coming To Xbox 360
New Xbox Dash Gets Release Date
Halo 3 Expansion Hits Fall 2009
Vague Date for Final Fantasy XIII, Nothing For Versus XIII
These Fighters Are In The King of Fighters XII
"PSP Plus" Brings DualShock Control To PSP
Old Snake, Sephiroth Get Sackboyed For LittleBigPlanet
Classic Controller For Wii Monster Hunter 3
Ensemble Studios May (Soon) Be Dead, But They're Not Out
360 Sales Have Doubled in US, More Than Doubled In Europe, Quintupled In Japan
Bionic Commando Delayed, Coming "Early 2009"
Uncharted Waters Online Getting PS3 Version
Microsoft: Japanese Sell Out Is "Totally Legit"
Resistance: Retribution, Resistance 2 Connect To Add "Infected" Gameplay
Xbox 360: Official Console of 2008 Recession
Konami Whips Up Castlevania For Xbox 360, PS3
Goichi Suda Has Not Given Up On You Nintendo Wii
Bionic Commando Movie Is A Definite Possibility
First Look At Street Fighter: Legend of Chun-Li Movie Poster
Tokyo Game Show Attendance Plummets Again
Revenge Of Public Day: TGS Attendance Rebounds!
Kojima Might Announce New Game At Next Year's TGS
Perhaps Why Tokyo Game Show 2009 Has Been Rescheduled...
Tokyo Game Show 2008 Attendance Actually Up!