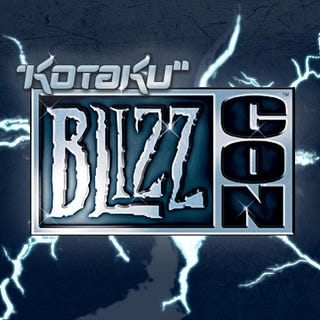 BlizzCon 2008 has come and gone. We've laughed, cried, loved, learned, and broken expensive props. For those of you who lost track of BlizzCon amidst the whirlwind Tokyo Game Show weekend, here's the final round up of all the stories spawned from Blizzard's yearly celebration of all things them.
BlizzCon 2008 - The Kotaku Griffon Has Landed
Diablo III Playable On BlizzCon Floor, New Class Reveal
Inside The BlizzCon 08 Swag Bag
Liveblogging The BlizzCon 2008 Opening Ceremonies
Diablo III's Third Class - The Wizard!
Diablo III's Wizard - Behind The Magic
StarCraft II Single Player Is A Trilogy!
The Best Of Blizzard - Retro Arcade
StarCraft II Lead Producer On The Split Single Player Campaign
And BlizzCon 2008 Continues, As Foretold By Prophecy
Behold The New Diablo III Logo T-Shirt
When Talking Plush Murlocs Attack
The Obligatory BlizzCon 2008 Cosplay Post
Hands On With Diablo III: Everything Old Is New Again
Look Kids, It's The Cast Of The Guild
WotLK's Death Knight Experience - One Of The Best Things We've Ever Done
Rubie's Costumes Make Even Bigger WoW Geeks
Diablo III's Coolest Feature - The Rune System
World Of Warcraft: The Bean Bag Game